---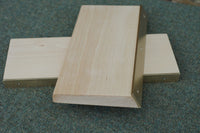 A pair of 16in Beech Backing Boards (Brass Edged).
Solid Beech
64 degree top bevelled edge
Bottom edges rounded over
Brass has a lipped edge 
Our backing boards are hand made to a traditional design and come paired up.  The top of the boards are bevelled to a 64 degree angle to provide access whilst working.  We can make our boards with a flat edge if required. The inside of the board is flat to provide even pressure across the binding, with an outside bevelled side to help with positioning the boards.  The brass is flush to the inside edge but extends beyond the outside edge so the boards will rest on the top of the press whilst setting up a binding, which makes them easier to use.